Jaw crusher working principle and characteristics
2020-02-17
Introduction: Jaw crushers are mainly composed of fixed jaws, movable jaws, frames, upper and lower guards, adjustable seats, and movable rods. They are used for the crushing of various ores and large blocks of materials. They are widely used in building materials and roads. , mine smelting, water conservancy and chemical industries.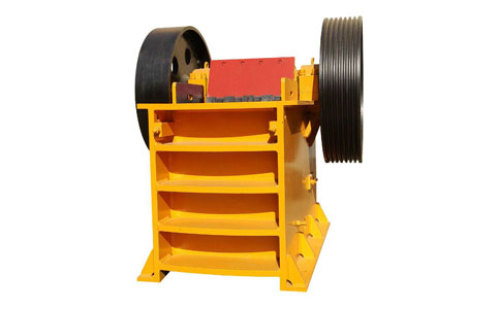 The Jaw Crusher is mainly composed of a fixed jaw plate, an active jaw plate, a frame, a top and bottom guard plate, an adjustment seat, a dynamic pull rod, etc., and is used for crushing various ores and large pieces of materials and is widely used in building materials, roads, and mines. Smelting, water conservancy and chemical industries.

Jaw crusher works

When the jaw crusher is working, the movable jaws make periodic reciprocating motions to the fixed jaws, sometimes approaching and sometimes leaving. When approaching, the material is crushed, split, and impacted between the jaws; when it is removed, the broken material is discharged from the discharge opening by gravity.

In the process of breaking large stones into small stones, the first crusher is usually a "main" crusher. The longest and most solid crusher is a jaw crusher. When feeding the jaw crusher, the material is poured from the top inlet into the crushing chamber containing the rake teeth, and the rake teeth force the material against the wall of the chamber and break it into smaller stones. An eccentric shaft is supported for the movement of the caries, and the eccentric shaft penetrates the frame of the fuselage. Eccentric motion is usually produced by flywheels fixed at both ends of the shaft. Flywheels and eccentrically supported bearings often use spherical roller bearings, which must withstand large shock loads, abrasive sewage, and high temperatures.

Jaw crusher features 1, simple structure, reliable work, low operating costs.

2, deep crushing cavity and no dead zone, improve the feeding capacity and output.

3, large crushing ratio, uniform product size.

4. Lubrication system is safe and reliable, parts are easy to replace, and equipment maintenance is simple.

5, low noise, less dust.

6. Energy-saving equipment: Single-machine energy-saving 15% to 30%, system energy-saving more than doubled.

7. The discharge outlet has a wide range of adjustment to meet the requirements of different users.
Related Products
Related Industry Information